Aluminum Siding
In 01/12, Tim said: I run a Restoration Shop for vintage trailers and have a gutter shop make any skin I need made! Especially the easy patterns like the rib patterns found on Scottys and Shastas! Last time I reskinned a trailer I bought the aluminum from another place (which I will not do again, later found out the gutter place could get it MUCH cheaper) and the Gutter place only charged me $75 to bend the profiles in all the sheets! Enough to reskin an entire 15' shasta! and put the lock seams on the end.

If you have any of the old skin I would suggest taking it to some AC, Gutter, metal roofing, Machinist shops. Make sure to take a piece with a sample of the seams you need. (Note from Nancy, for a Scotty that is a 3" break with a Pittsburgh seam). 


In 5/11, Ron added these comments: I called Hoyt Truck Center in

Kansas City

, and they put me in touch with their source, the

Kansas City location

of Jim Hawk Trailers. They have aluminum sheet 103" wide in a coil (489 feet left on current coil!) @ $ 13.84 a running foot. This is twice as thick as the original Scotty roof (.040" instead of .020"), so it doubles the weight: my Gaucho needs a 76" x about 13 ft. piece, which will weigh about 46 pounds, a 23 pound increase in weight - I can live with that! I located a machine shop in Emporia that can shear it to my width, and Emporia is on a Jim Hawk delivery route - I won't have to pay freight, so I'm all set- just a 40 mile round trip and I will have my new roof at home in about a week!
Michael Leichty's roll your own
In March, 2017, Michael contacted a local metal supplier and purchased 4x10' sheets of aluminum at $55/each. The original skins measured at .022 but the thinnest Mike was able to find was .035 (approx. 1/32"). This was for new skins for a Shasta project that takes a 6" break (Scottys are a 3" break).

To roll the 6" breaks, he tacked down two long strips of 1/4" plywood about 1/2" apart. This was to give the area he wanted to crease (break) room to give.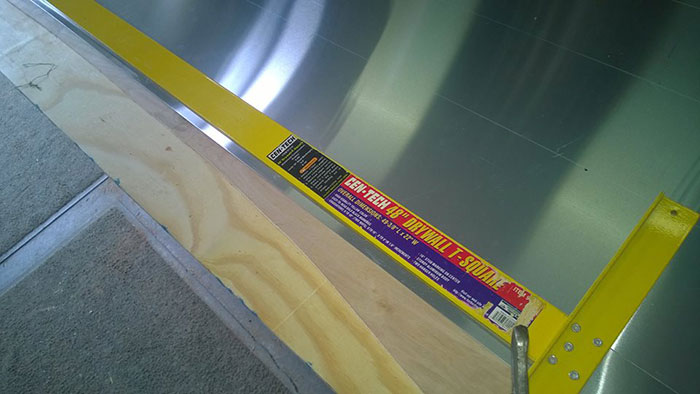 He then scribed lines 6" apart on the bare skin.

He used an aluminum straight edge and a window screen splining tool to press the lines into the skin.

This is a close up of how the scribed line straddles the space between the 1/4" plywood pieces.

The piece for the front.

Sides.

On a Shasta the front and rear skins fold over 3/4" over the side skins and then their corner edging goes over that. A Scotty goes edge to edge, no over lap like the Shasta.